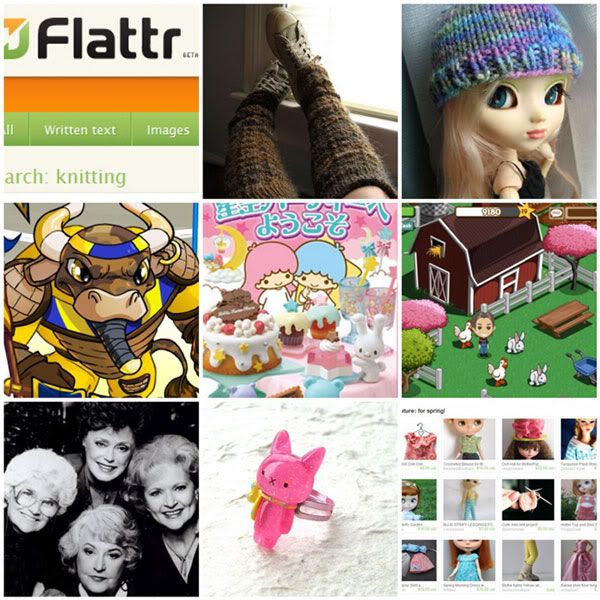 1. flattr 2. my new leggings 3. pullip knitting 4. altador cup 5. little twin stars re-ment 6. farmville 7. the golden girls 8. souzoucreations 9. treasury east on etsy

now my true nerdiness will show...
1)
flattr.com
. lee of
leethal
wrote a
super-awesome post
about this recently, and i really hope it catches on! this would be great for people who offer free patterns and tutorials. i think i need to request an invite right now.
2) my lovely
legwarmers
, pattern by
tiny owl knits
. love love love her patterns. also loving my diy hackle, but i need another table clamp for it. why are these so hard to come by?
3) dolly knitting again! i'm finally getting back into the swing of things. working on a little summer top right now. also working on putting my hat pattern up on ravelry (still...).
4) yeahhh.... neopets. it's altador cup time! lost desert, baby! come on, i can't be the only one...
5) little twin stars are my absolute favorite sanrio characters. thus, this re-ment set must be had. i finally tracked down a couple places that have it for preorder. yes!
6) so yeah, farmville too. i
know
i'm not the only one on this one. (anyone wanna be neighbors?)
7) the golden girls is one of my favorite shows of all time, ever. (rue... ): ) i've always thought that my best friend and i got along so well because i 'm a cross between dorothy and sophia and she's a cross between rose and blanche. now you can see every episode on
youtube
! i miss when they had the fancy cook.
8)
souzoucreations
's little bunny and kitty rings. ohhh want. they are all in smaller sizes, though... i may have to give in and do some stretching.
9)
treasury east!
digging it. i kind of wish they would keep the old treasuries as well.. there was a certain excitement in snagging one. ah well. i have a doll couture
spring collection
up and thinking on one for summer too.
phew. all linked out.