so here is the stuff i mentioned in my last post. four ounces of superwash merino/tencel blend...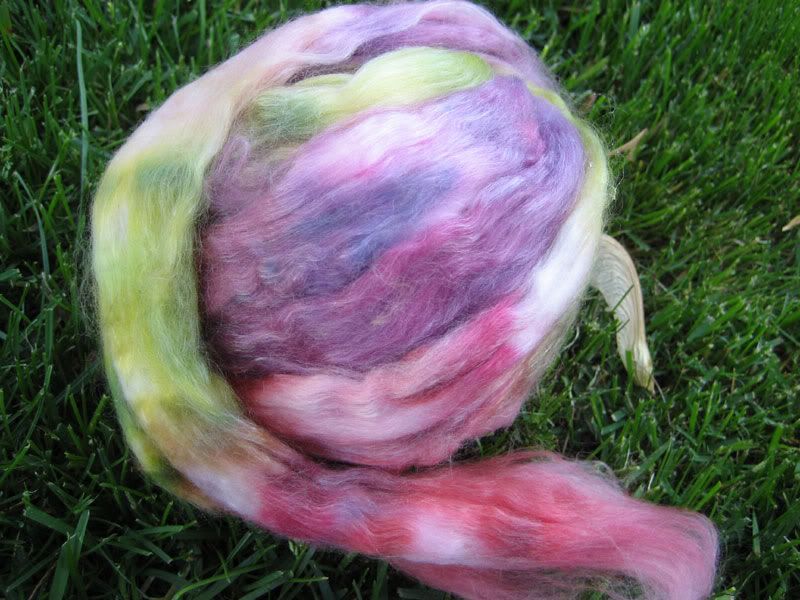 which i spun into this!
(here it is in my
ravelry stash
.) i didn't trust my instincts and it came out thicker than i meant it to, more like sport-weight. still going to try for socks though. i'd never spun anything with tencel in it before and i have to say, it is tasty. i have to resist ordering some more. okay, so i did put in another order with
susan's spinning bunny
. got some alpaca/merino/silk, which i have been admiring and not spinning. this must be remedied. anyway, they are supernice there and i kind of want everything in their shop.
other spinnings: i dyed up some of my plain wool from the sheep shed, threw in some easter grass and got:
this was one of the few times the boyfriend took notice of my spinning, and said it reminded him of
ecto cooler
. i really can't wait to knit it up, but other things must be finished first. (sigh)
here it is on ravelry!
i've also been crocheting:
these are new in the shop. i like the contrasting textures.. it's hard to tell but there's some velvety, fluffy, and sparkly yarns mixed in with the plain stuff. your dollies will dig it too. (=
i also listed some more strawberry shortcakes:
lem 'n ada
. it's been crappy and rainy here lately, so the pictures are not great. some re-photo-ing is on the list, along with hoping for better weather.